Dial / Ratiometer / Converter / Ratiometer DRM001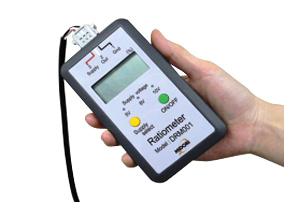 DRM001
Product specifications
【Product introduction】
This is a measuring instrument for measuring *ratio output. It is designed for the on-site measuring needs.
*Ratio output refers to the output voltage proportional to the applied voltage.
Displays the sensor DC power supply and the ratio output (output voltage divider ratio).
This is an ideal measuring instrument for potentiometers and for mounting and adjusting Hall IC products and sensors with built-in operational amplifiers which resistance values cannot be measured.
Uses AA batteries, which prevents burnout due to incorrect wiring or tester current.
In addition, it can be adjusted at the same ratio as in actual use, so that the position can be adjusted more accurately than indexing by resistance value.
【電気的仕様】
形名
DRM001
Display
Ratio display (0.0~100.0%)
Accuracy
Max ±0.2%
Power
DC3V (AA batteries*2)
Sensor supply voltage

DC5V、DC8V、DC10V

(Rotary type)
【Mechanical specification】
【Environmental features】
| | |
| --- | --- |
| Opertate temperature | -10℃~50℃ |
| Storage temperature | -20℃~70℃ |
【Accessories】
Potentiometer connection plug: made by Sato Parts ML-4000-AP-3PGY
※Lead wires not included(Applicable wires: AWG16 to 24, single wires up to AWG26)